Add some character & soul.
Luxury with a difference - We're proud to have created something beautiful for you, using only natural fibres. Wool is nature at its finest and with minimum impact on the environment, we want to ensure our care for the future.
Wool is an all-natural substitute for the petrol-based products and has properties known to help insulate, redirect acoustics and is even capable of providing architectural structure. In addition to the acoustical benefits, wool panels offer great colours and the ability to filter air pollution and odour.
Wool carpets, rugs, and woollen soft furnishings are becoming more sort after by interior professionals, being integrated into the interior design of lobbies and luxury spaces.
Our passion is developing products in collaboration with the design community, from concept to completion, allowing us to push the boundaries of design.
Natural Wool Bean Bag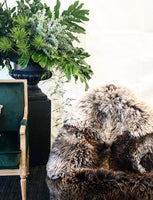 Wools' unique properties